In and Around Chester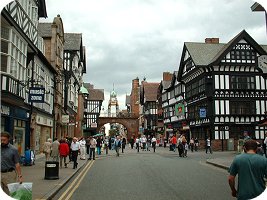 Chester is a wonderful and up beat city, with good shopping and plenty of Historical sights to be seen. With its cobbled streets, Cathedral and original Tudor buildings Chester is as quaint as it is modern.
While in Chester you cannot miss out on walking round the famous walls that were built by the Romans who founded the city some 2000 years ago. The city is steeped in rich culture including the Amphitheatre and Roman Gardens.
Chester also offers a large selection of good quality restaurants. At night time Chester is a lively city with plenty of pubs and bars.
A visit to Chester would not be complete without an outing to the famous Chester Zoo.
Other local must-see attractions include:
Grosvenor Museum
Gateway Theatre
Military Museum
Deva Roman experience
Cheshire Oaks
Blue Planet Aquarium
It's also worth checking the Chester City Tourism office as Chester regularly hosts different events such as the new Festival of Romance.
Book a room online